The Best Apartments in Mission Hill, Boston
A Sampling of the Best Apartments for Rent in Boston
Whether you're just beginning your time in Boston, or you've lived here for years, Mission Hill is an excellent neighborhood to call home. From the excellent restaurants along Huntington Avenue and Tremont Street, to the bevvy of independently owned restaurants, pubs, and hip shops scattered across the neighborhood, Mission Hill packs a lot of neighborhood into its single square mile.
The best apartments in Mission Hill — or the best apartments currently available, anyway — offer some truly fantastic accommodations to go with the kinetically vibrant neighborhood. While each is available to rent on MissionHillPads.com as of the time of this writing, the fast-paced nature of the Boston real estate market means that these specific properties might well be sold by the time you read this article. Think of these as a sampling of what's waiting for you in Mission Hill: and if you like what you see, it's easy to find similar apartments for rent here, or across the Boston Pads network.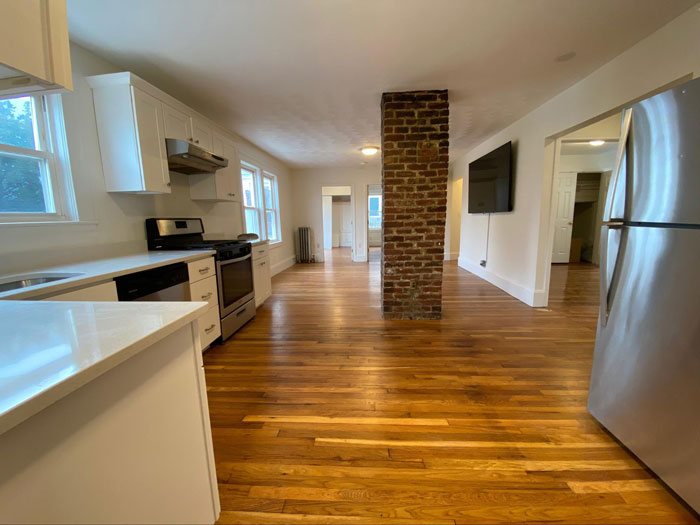 A Gorgeous 5-Bedroom Duplex — $4,400-5,600/Month
With five bedrooms, two baths, and more space than you'll know what to do with, duplexes like this one bring some of the best aspects of suburban living to one of the most connected neighborhoods in The Hub. You would be forgiven for assuming that hardwood floors, granite countertops, stainless steel appliances, and spacious closets are the sole domain of luxury condos or multi-million dollar homes in nearby suburbs. However, it's simply not the case, as this apartment clearly demonstrates.
When renting apartments of this size, amenities like on-site laundry are more than just a luxury, they're a breath of fresh air. Whether you're moving in a large family, a group of young professionals, or found some excellent matches with our roommate matchmaking service, looking for an excellent apartment, the admittedly hefty monthly rent starts to look much more manageable when split five ways. With the right roommate arrangement, you'll all save money while getting access to amenities that are hard to come by.
Find Apartments like this one on Mission Hill Pads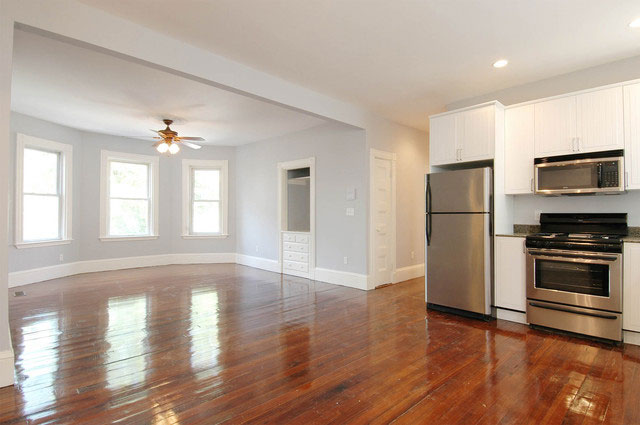 A Massive 6-Bedroom Colossus — $7,500/Month
Some folks will tell you that bigger isn't always better. Of course, many of those folks paid two million dollars for what's basically a closet in New York City, so maybe take that advice with a grain of salt. Sometimes the answer is to go big: big spaces, big floor plans, big bedrooms… you get the idea. Stainless steel appliances and granite countertops are more than just a luxurious amenity: in an apartment of this size, your kitchen is going to see some serious use. Off-street parking — a nice-to-have option in some apartments, but a borderline requirement for anything this size — seals the deal.
One myth about renting apartments in Boston is that big families or other groups can't find a space in the city that will meet their needs. Simply put, that couldn't be further from the truth. While spacious apartments like this one are certainly outnumbered by their more compact counterparts, when you leverage the massive Boston Pads database, you get access to over 150,000 Mission Hill apartment listings, which makes finding gems like this one easier than ever.
Go big or go home?
Find apartments like this one in Mission Hill Pads
, and you won't have to choose.

4 Bedrooms & Gorgeous Hardwood Floors: Under $4K/Month
Look, we get it: housing in Boston isn't inexpensive by anyone's standards. But if you're looking for cheap apartments in Boston, here's some advice: you don't want a "cheap apartment." You want a great apartment, that you can actually afford, right? This is where roommates come in. You'll be hard-pressed to find a sun-kissed, spacious apartment with hardwood floors and an outdoor patio for $800 a month, right? But if you're splitting the cost four ways, Mission Hill has you covered.
By teaming up with some roommates, the dream of living in an apartment you love while spending less than a grand on your monthly rent is more than just alive: it's easily within reach. Consider acting quickly, though: the best deals are usually claimed months in advance of the September 1st move-in date, so reserve your next apartment as early as January or February to ensure you're not left out in the cold.
Find more apartments like these.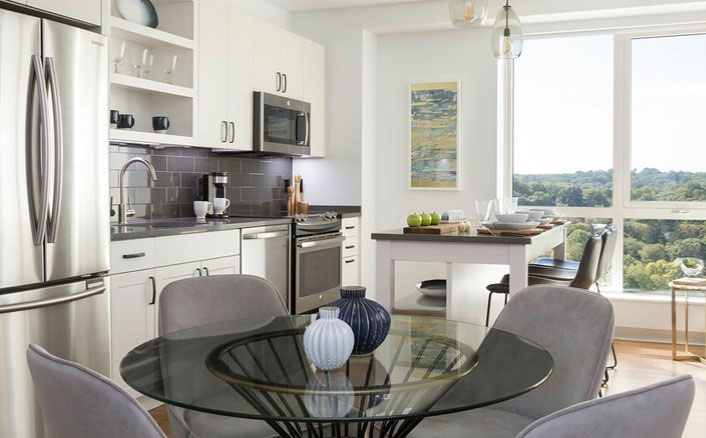 Spacious Studios in the Neighborhood of $2K/Month
When you think of studio apartments in Mission Hill, what comes to mind? If you're like most apartment hunters, the idea of a small, affordable space is synonymous with the term "studio." But with listings like this pet-friendly unit with hardwood floors, central air, and onsite laundry and parking, or the stone countertops, stainless steel appliances, in-unit laundry, and covered bike storage that this listing has to offer, the open floor plans of high-end studio apartments often feel more open and luxurious than their single-bedroom counterparts.
Find studio apartments with similar amenities here.
In the Middle of Everything
With 156,000-plus apartments from thousands of landlords, choosing the best apartments in Mission Hill is a dizzying — and ever-changing — task. It's a beautiful neighborhood with a lot of personality, and a staggering variety of apartments for rent. Hopefully, this whets your appetite for the excellent offerings available. As ultimately, the best apartment in Mission Hill is the one you fall in love with.
So what are you waiting for? Let's help find you that perfect match: start your search, or contact an agent today!