When Should You Start Looking, and Where Can You Find Apartments for Rent in Mission Hill, MA?
The short version is pretty simple. When should you start looking for apartments in Mission Hill? Well, wintertime is good, but whenever you move, some of the best places often get rented many months in advance. And while it's only a square mile or so, going door to door hoping to find a group moving out is far from ideal, most likely unrealistic and could result in a giant waste of time. Search online to find what's available, with a locally sourced and highly active website like Mission Hill Pads to make it easier on yourself.
In all seriousness though, don't let the prospect of finding your next apartment scare you off. Finding an apartment for rent in Mission Hill is easy enough. Finding one that fits your budget, schedule, and other needs? That can take a bit more digging.
So let's get right to it.
First Steps to Finding an Apartment for Rent in Mission Hill
Mission Hill is a little less than one square mile end to end, so you could conceivably just take a trip to the neighborhood and see what catches your eye.  Maybe you are the outgoing type, and you go around and ask people if they know if anyone is moving out?  Perhaps you get lucky and that these strangers would be willing to give you their landlords phone number so you could rent a pad?  Anything is possible, but the chances are that deploying this process will waste a tremendous amount of time and possibly money that may be better served for other more pressing matters.  And while strolling around a neighborhood is great way to figure out what parts of mission hill appeal to you, it's probably not a solid strategy for finding apartments for rent in Mission Hill.
So it may be smart to spend some time examining streets and local amenities of mission hill, but it's just a small first step.
Making a Game Plan
Getting a feel for the neighborhood is a great start, but if you're thinking about moving to Mission Hill – or anywhere, really – it helps to plan out what you're doing.  You have heard of the old saying "If you fail to plan, plan to fail" and nothing could be more true about finding an apartment in Mission Hill where the vacancy rate often drops below 1%!  It's important that you get your finances in order so that you know what you can afford and to make sure that if you have a group you are all ready to put down a deposit.
Most financial advisors suggest setting aside half your income for rent, utilities, groceries, transportation and such, with another 30% going to entertainment, and 20% for financial goals like saving, paying off loans, retirement funds, etc. Take some time and sit down and figure out your financial picture and also have a candid conversation with your potential roommates.  You have to figure out if you are going to need co-signers as well if you can't afford the apartment.  It's vitally important to that everyone is on board because the best apartments rent fast, and if your paperwork and monies are not lined up properly, you can lose that great place of your dreams.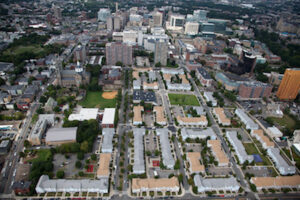 Is Mission Hill an easy place to rent an apartment?
Yes. And no. Mission Hill is, well… it's very much its own thing. Granted, out of all the neighborhoods in Boston, Mission Hill is closest to the most overall number of colleges. Let's be honest with ourselves, and recognize that no one likes a long commute – it's that location, location, location, location thing we always hear about.  So while the turnover of apartments in mission hill is high, the competition for them is fierce.  Great apartment on the hill can rent within hours of getting to the marketplace.  Some landlords have even experienced apartment seekers asking if they can put down a deposit for the following year on an pad that this missed out on this year!  The location of Mission Hill and it's close proximity to downtown makes it attractive to a wide spectrum of apartment seekers. People of all walks of life love living in Mission Hill, and the neighborhood boasts an excellent mix of residential nooks and crannies, as well as the bustling scene on Tremont Street and Huntington Avenue. This diverse mix of small-town neighborhood and kinetic, hip center is one of the things that so many Mission Hill residents love so much.  There is truly something for everyone in mission hill.  There is also a lot of long standing home owners in Mission Hill that simply love the hill and couldn't see themselves living in any other location.
How do I Find an Apartment in Mission Hill?
A better question is probably, "how do I find the right apartment in Mission Hill?" Using a search engine like Mission Hill Pads.com gives you the opportunity to find a place that meets your needs, within your budget.  Their website and database structure are designed so that you are only looking at the freshest apartments in real time.  While other portals can be clunky and outdated, the local website prides itself on only showing up to date listings with the most accurate pricing through constant curation of highly responsible agents and paid staff.   You can Search through all types of filters, figuring out things like how many bedrooms you'll need, if you want to be near public transit, dates of occupancy and much more. Once something catches your eye, just scroll down the page, and request a viewing: a professionally licensed real estate agent will set something up right quick.
When Should I Start Looking for Apartments in Mission Hill?
If you really want to beat the crowd, and you know you'll be moving to Mission Hill in September, you should ideally start looking at potential places as early as January, or even December. If you want first crack at the available apartments, get moving around the new year: you'll be glad you did.
The September to September Schedule, and Moving Day
That every year, tens of thousands of students flock to Greater Boston's universities, moving in to start classes in September. Whether you're a student yourself or not, September 1st  to August 31st  can feel like it's moving day for the entire greater Boston metropolitan area, and Mission Hill is no exception.  Some areas of Boston, including Mission Hill, have over 80 percent of their leases turn over on the 9/1 apartment leasing cycle.  Overall in the Greater Boston Area we can see year by year turnover happening in ranges of 66%-74%  on the 9/1 cycle.  It's a massive migration of people throughout Boston in a very short period of time!
Anyone looking to move to Mission Hill would do well to try and get in before 9/1 in order to beat the crowd. If you have the option of getting a lease signed in June, July or August you can often find better pricing.  The best overall time to try to score a great apartment at a lower price point is to try to snatch it during the late fall or wintertime.  Keep an eye out, because many landlords renovate their properties and as such run into delays, and by the time they get their permits signed off, they often finish after the peak demand months.  While we are not suggesting couch surfing to nail a great deal in the fall or winter, if you have the option of looking during the shoulder season of renting you could save thousands of dollars.  So if you can go against the grain of thousands of people moving in all at once, you could win big.  So if you want to bail out on the frustrating process of barely being able to find a moving truck, and never mind parking it to move in when everyone else is doing same, save yourself the hassle, and get in a bit earlier.
Pro Tip: Work With Your Real Estate Agent to Beat the Crowd
Finding time to see prospective new homes, get your keys, and move in to your apartment can be a hassle: especially if you're moving in from out of town.  And trying to make time for this in the middle of a busy move-in season can be more hassle than anyone wants to deal with.  Like we mentioned before, time is money.  It's important to work with a local trusted source and team that has rented the most properties on Mission Hill.  Work with the people with the most inventory.  Seeing the most apartments on mission hill on one showing will make your wallet and your life better.   Work with leaders of apartment leasing in Mission Hill, ask them how many apartments they have rented.  Ask them if they specialize in renting properties in mission hill.  Test their knowledge, this can save you time from working with the wrong agent.
Here's something to keep in mind. When you work with the right real estate agent and team that knows the leasing process, they will want to help you get this completed just as much as you do, if not more so.  If you know in advance that you'll be moving to Mission Hill, start making serious inquiries as to who has the best inventory.  Ask the agent how many units they are going to show you.  Listen to their strategy.  Ask them how many landlords they have in their database.  Details matter.  Some companies focus mostly on sales and not leasing. There is a huge difference in apartment leasing and sales.  Find the companies and websites that specialize in local apartment leasing in Mission Hill.  You can take your pick of available apartments instead of simply settling for what's left or looking at less inventory.  Always be Leary of the company that says they only have one unit to show you.  Ask the real estate agent if they like to cold call and warm call for you.  Ask them if they fully dedicated to apartment leasing or do they do other things that keeps them from focusing on your real estate needs.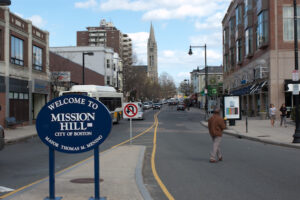 Wait, Who's My Real Estate Agent?
If you're already working with an agent who's handling this stuff for you, then them.  If you feel they are keeping you informed on their prospecting endeavors and keep bringing you new inventory to look at – then stick with them.  You want to work with real estate agents that focus hard on bringing you new inventory that no one else knows about first.  The best apartments always rent the fastest and this is especially true on mission hill.  You really want to grab the best top notch local real estate agents that have long histories of long relationships with landlords,  and those are found on Mission Hill Pads.com: just scroll down to the bottom of the page, and you'll find contact information, as well as a simple form to get a hold of them, set up viewings, things like that.
These listing entries contain local active phone numbers. Trust us when we say that your agent doesn't mind you calling them. They'll be more than happy to work out the details with you, so don't be shy.
Living in Mission Hill
Mission Hill is a great neighborhood, with a little bit of everything, and a whole lot of heart. Finding an apartment for rent in Mission Hill isn't always easy on short notice, but if you plan ahead and work with top notch real estate agent(s), you'll be moving in to a spot that meets your needs perfectly before you know it.  Don't delay, get your apartment search going today!